Many businesses today manage multiple communication tools and devices that deliver a negative user experience with inflated costs.
The reality is that complex legacy telephony systems are impacting an employee's ability to service customers effectively – so businesses need one simple unified collaboration platform.
Our collaboration and voice tool experts have over 10 years of telephony experience delivering IP-based telephony for clients throughout Australia and New Zealand.
The Enablis team has worked with a range of customers to deploy large scale telephony platforms using Alcatel, Cisco, Mitel and Broadsoft. Additionally, the team has successfully helped customers move from legacy telephony systems to new Unified Communication platforms, such as MS Teams and Cisco Calling.
Our portfolio of collaboration services provides your staff with tools to reduce complexity and save money. Our services also mediate effective and efficient communication both internally and externally with customers and partners.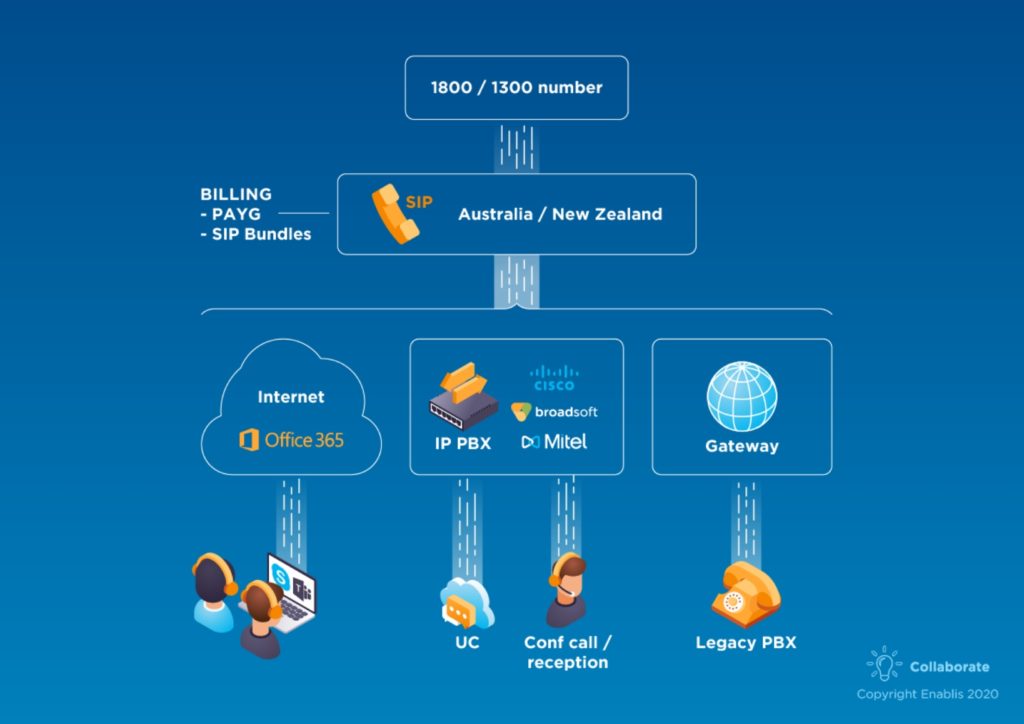 Collaboration & Voice Services

Cloud Telephony
Feature-rich, subscription-based telephony, and collaboration services to drive productivity and enhance customer service.

SIP Channels
Provision the appropriate number of SIP channels centrally to suit your estate needs and save costs. We offer a flexible & scalable solution, with PAYG (pay as you go) or pre-paid inclusive call bundles.

Inbound Number
Solutions
Inbound number solutions enable effective customer contact and marketing led sales generation campaigns.
What is Enablis MS Teams Voice Calling?
Enablis MS Teams Voice provides voice calling natively from your existing MS Teams Platform.
If you are already using Microsoft Teams – the Voice component gives you traditional voice calling capabilities from your existing MS Teams platform. You can move your voice calling capabilities to the cloud with integrated calling capabilities to landlines, 1300 & 1800 numbers, International and mobile phones directly from your MS Teams user interface.