What is Enablis MS Teams Voice Calling?
Enablis MS Teams Voice provides voice calling natively
from your existing MS Teams Platform.
If you are already using Microsoft Teams – the Voice component gives you traditional voice calling capabilities from your existing MS Teams platform. You can move your voice calling capabilities to the cloud with integrated calling capabilities to landlines, 1300 & 1800 numbers, International and mobile phones directly from your MS Teams user interface.
Is your business using multiple communication tools – MS Teams
to talk internally and other tools (Cisco, Mitel, TIPT) to
speak to external partners and customers?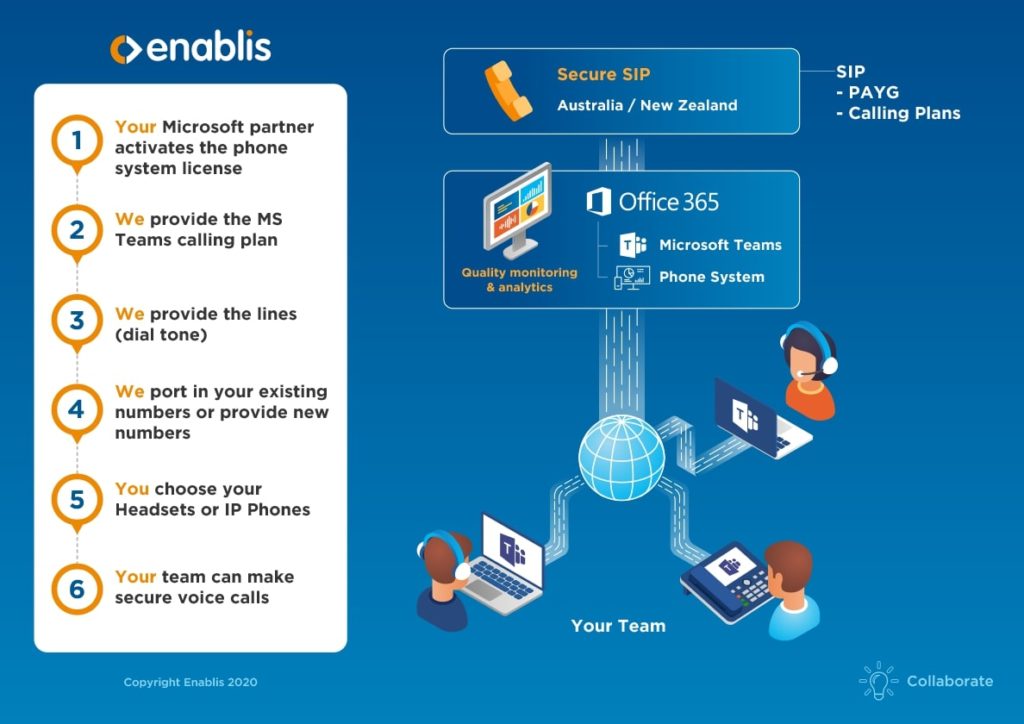 Don't forget Skype for Business is EOL in July 2021 – take a
look at the advantages of MS Teams Voice Calling
Simplify and extend your MS Teams communication capabilities by adding Enablis Voice Calling directly into Office 365. Remove the need for costly PABX hardware and free up users to answer calls from any location using any device. This single unified communication platform improves collaboration and efficiency with voice, chat and video from anywhere.
The Benefits of using MS Teams Voice
MS Teams Voice Calling is ideal for remote workers, reduces complexity
and is cost effective to deploy across any business.

A simplified
communication experience


Visibility – dashboard
reporting of calls & quality

Keep existing
phone numbers

Aggregate user capacity
to optimise costs

Cost and
maintenance reduction

Compatibility with existing
contact centre and PABX

MS Teams Statistics
86%
*of respondents said teams & MS365 has better privacy controls
14.6%
*reduction in user downtime having resources available in one cloud-based location
88%
*of respondents stated its now easier to communicate securely and ensure privacy
*Source: January 2019 study commissioned by Microsoft conducted by Forrester, 2019- titled The Total Economic Impact™ Of Microsoft Teams
Download the MS Teams Voice Fact Sheet now
Use your existing MS O365 service to reduce the complexity of separate collaboration systems, meet security and
compliance demands easily, and enjoy more financial flexibility with MS Teams Voice Calling.
How does Enablis MS Teams Voice Calling work?
Enablis MS Teams Voice Calling provides a managed service to fully voice-enable all staff within your business.
Get Started: To get MS Teams Voice calling up and running, the MS Teams client is installed on your staff's mobile, tablet or laptop, and they are provided with a Microsoft Teams certified headset.
MS Teams Licensing: The company acquires the relevant MS Enterprise license and Phone System license – once the licensing is assigned to a user the "Calls" button appears within the MS Teams client.
Phone System: The MS teams phone system license provides a Cloud PBX within MST O365 which offers PBX functionality, replacing your existing telephony system.
Functionality & Ease of Use: It's easy to use and the "Calls" button provides functionality for inbound & outbound calling, speed dials and voicemail from any location.
IP Phones: In addition to the MS Teams client, the solution offers several "Teams native" IP Phones (entry level to executive), conference phones and portal speakers.
Room solutions: Meeting room solutions are available from small meeting rooms to conference halls and include everything needed to collaborate effectively.
Direct Routing: "Dial tone" into MS Teams is provided by connecting the customer's MST Cloud PBX to a Microsoft certified Session Border Controller (SBC). The SBC provides the link between the customer's O365 MS Teams instance and the outside world.
The Bridge: The SBC can act as the bridge between the customer's existing telephony system and MS Teams to allow for a staged migration.
SIP Trunks: SIP trunks are connected to the SBC to enable inbound and outbound calling, to local, national, non-geo (1800, 1300) and International numbers.
Calling Bundles: SIP channels can be delivered as "pay as you go" or as Calling bundles which include calls to local, national and mobile numbers.
If you want to understand more about how MS Teams Voice
can work for your business – Chat with Enablis today!
Could your current IP telephony and collaboration costs be reduced to improve efficiency and save money?
The MS Teams Voice Calling ROI Savings Calculator will help you understand how to optimise your current collaboration tools and what the cost savings are using Enablis MS Teams Voice Calling.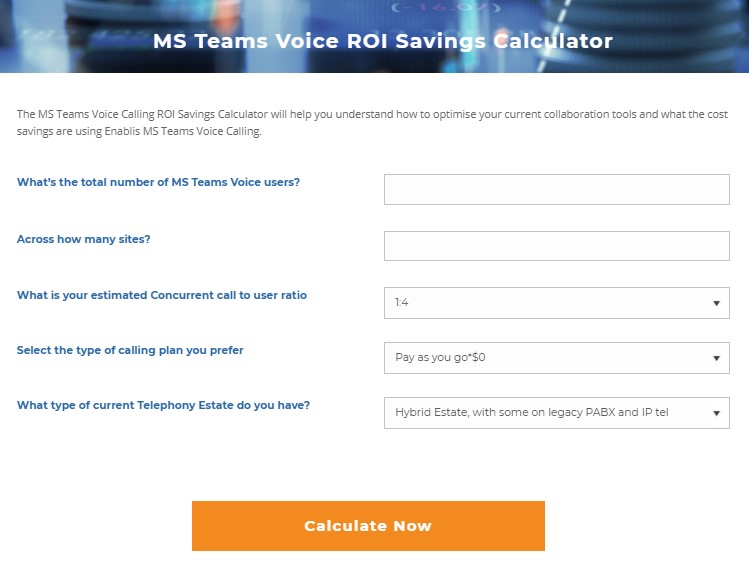 What Our Customers Have To Say
We were confident Enablis could get the job done and deliver what we need because they listened to and understood our requirements. We needed a network that could support the business going forward and continue to meet the changing needs of our customers.
Keiron Humbler
Group Executive Business Operations

One of the reasons that Enablis was such a strong candidate is that they offered a solution that aggregated a range of carriers. They dedicated the time to reviewing each of our 15 branch offices and as a result we have a network tailored specifically to our business.

This project was the biggest type of change from an IT and Telephony infrastructure perspective that the business has ever undertaken. What we've done today is something that we won't have to do again. It's a sustainable infrastructure.
Vineet Belani
Invocare Head of IT

We know 66% of our voice spend was going to online rentals and redundant services. Enablis' UC voice service removed these costs and we expect to save in excess of 50% that we can deploy to other business value areas.

Moving to a managed service with Enablis means I can trust them to keep my IT communications up to date and secure while my team focus driving efficiency across our sites, out in the field and on the factory floor.
Glenn Casarotto
IT Manager

Why work with a Trusted advisor and partner?
Enablis provides a fully integrated solution delivered as a
Managed Service (MS certified SBC (session boarder controller),
SIP Channels, headsets and IP phones).
The team of communication experts have years of experience in SIP and IP Telephony across ANZ
Enablis Engineers & IP Telephony experts specialise in legacy PABX systems management (with Cisco, Alcatel, Mitel & TiPT)
Enablis experts manage any transition risk for you
MS teams Voice can be delivered independent of existing MS licence agreements – current licensing agreements can remain
Enablis can also offer you short term, flexible term contracts (3-36 Months)
Safe pair of hands, we share the risk of delivery and guarantee the outcome
The Enablis service team provides responsiveness at all times
Best commercial offer for scale and cost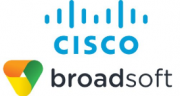 If you want to discuss how MS Teams Voice can transform your
business today – Contact an Enablis MS Teams expert.
MS Teams Voice Calling Blogs
Fill in the form to discuss a
VOICE solution for your business