Secure connectivity with flexible contracts
Enablis chooses the best connectivity available from all of Australia's leading communication & cloud providers to deliver a tailored network that is right for your business needs today and for the future.
With flexible contract options, we can design your network to move and change with your needs. This gives way for business agility without penalty, unlike single carriers.
Our team of network and security engineers have over 15 years of complex networking design and implementation experience. They can build high capacity multiple-carrier infrastructure frameworks for leading Australian and New Zealand businesses.
Optimised connectivity with flexible contracts to support your business
Enablis Connectivity solutions are tailored to your business needs to give you secure, fast access to applications and data from any location at any time.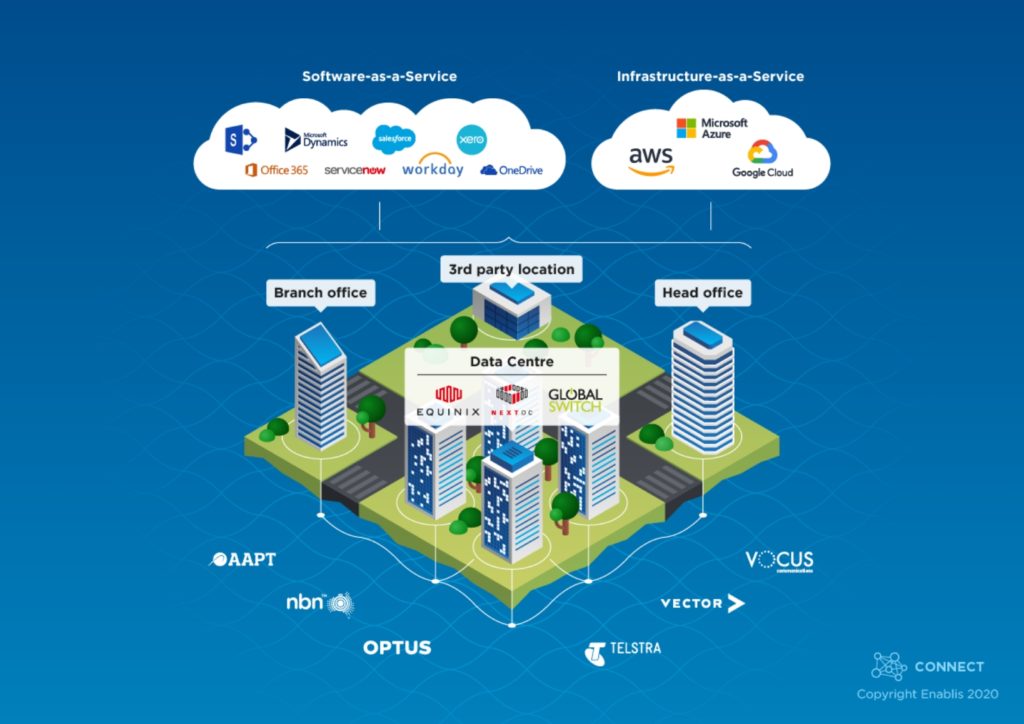 Connectivity
Connectivity solutions tailored to your business for secure,
fast access to applications and data 24×7.
Flexible Connectivity Solutions

Wi-Fi
Modern cloud managed Wi-Fi with faster speeds & performance
Modern cloud managed Wi-Fi access with faster speeds, enhanced application performance and full visibility.

LAN
Next generation wired networks, with end-to-end cloud management
We design, deliver and manage next Generation cloud LAN services to ensure end to end performance of applications in your office and branch sites 24 x 7 x 365.

SD-WAN
High-performance, low-cost network access to your sites with enhanced security and application visibility. Our SD-WAN solution enables your business to do more than traditional MPLS networks.
What is Secure Access Service Edge (SASE)?
SASE converges networking and network security into a single, cloud-delivered offering to support the needs of digital business transformation, edge computing, and workforce mobility.
Why is SASE the future of network security in the cloud?
SASE is a cloud native, software-based security framework that takes advantage of public cloud services to dynamically scale with demand. The SASE framework is critical for your business, as it allows secure and fast access to the Internet, SaaS applications, cloud applications and private data centre resources for remote workers, partners and customers from any location at any time.