Source: Enablis SASE Protect 2020
Do you have these security challenges?
SASE Protect can support you now.
Need to deliver a consistent, robust security framework across the organisation to secure all data and applications for office staff, remote workers and partners alike
Require improved performance and latency backed by application Service Level Agreements
Need to enable zero trust network access based on user identity, device, application and not IP address or physical location for seamless protection on and off the network
Require visibility to all data and applications from any location
Need a simplified security environment  that eliminates  the need for multiple vendors and point products
My business needs improvements in performance and latency
Contact a SASE Expert today
Gartner has predicted that at least 40%
of enterprises will have explicit
strategies to adopt SASE by 2024.*
* "The Future of Network Security is in the Cloud"- Gartner 2019
SASE enSures secure access to your
business applications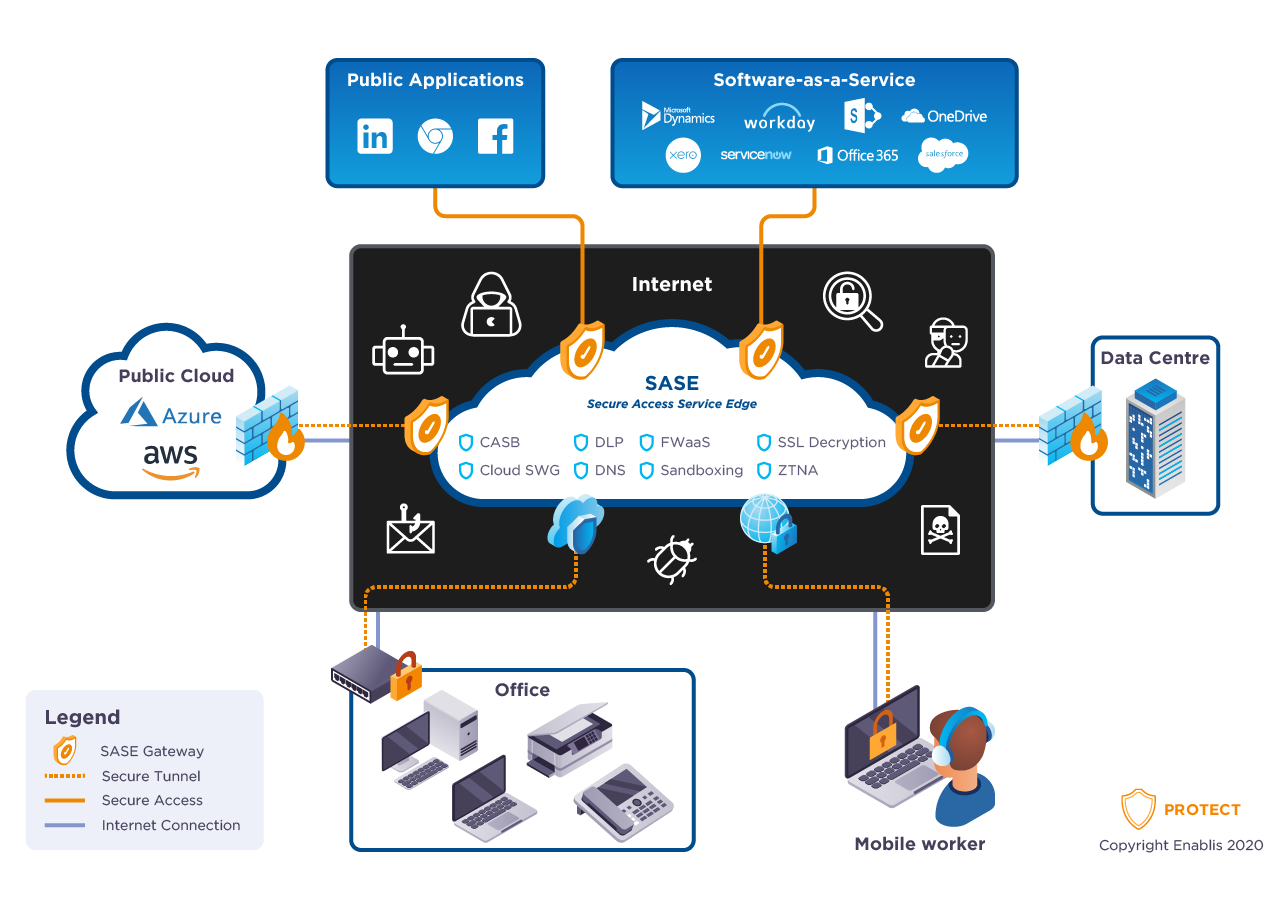 Source: Enablis SASE Protect 2020
Benefits of a robust security strategy

Direct secure access to Cloud applications
Direct secure access to Cloud applications

Enable zero trust network access with improved security
Enable zero trust network access with improved security

Ease of use/transparency for users
Ease of use/transparency for users

Enable new digital business scenarios
Enable new digital business scenarios

Centralised security policy with
local enforcement
Centralised security policy with
local enforcement

Improvement in performance/latency
Improvement in
performance/latency

Centralised policy with local enforcement
Centralised policy with local enforcement
Secure Access Service Edge (SASE) For Dummies®, by Palo Alto Networks is a Special Edition mini book explaining everything you need to know about SASE.
This easy to read mini book has five chapters that explore the following:
Modern trends and their impact on the evolution of networking architectures
SASE use cases
Networking capabilities in SASE
Security capabilities in SASE
Key SASE benefits
Each chapter is written to stand on its own, so if you see a topic that piques your interest feel free to jump ahead to that chapter. You can read this book in any order that suits you. There's also a glossary in case you get stumped on any acronyms or terms.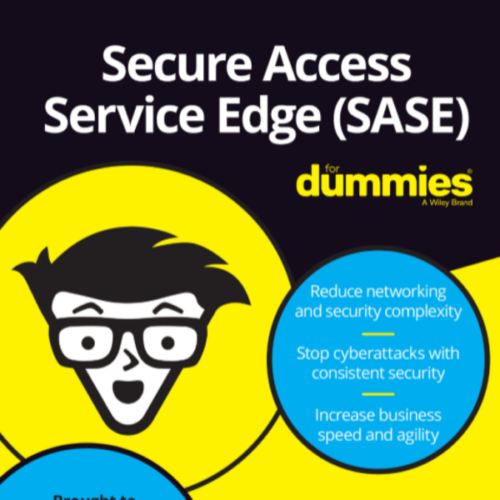 SASE  merges security solutions into a unified, Global Cloud-Native Service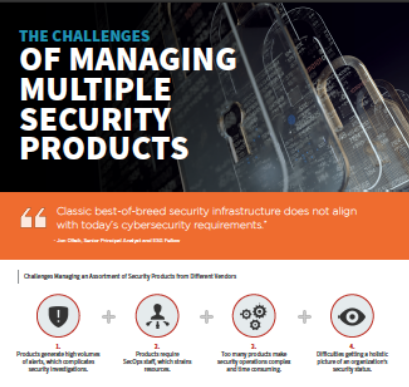 Enablis SASE Protect is delivered as a cloud service – it can inspect traffic on all ports and protocols and provides security services including; SSL Decryption, advanced threat prevention, sandboxing, Data Loss Prevention (DLP), Zero Trust Network Access (ZTNA) plus much more.
Organisations continue to increase their cloud and data usage for users, devices, applications, and services, creating the need for secure and fast cloud adoption – SASE. This change in how organisations approach security brings major benefits in consolidating security technologies and vendors – that can lead to tighter product integration, increased innovation, improved security efficacy, efficiency and reduced costs.
"View the Enablis & Palo Alto Networks 26 Mins video,"Enabling a Mobile Workforce with Secure Access Service Edge (SASE) from Palo Alto Networks Field CTO Jason Georgi, who discusses the following: ​​​​​​
How SASE converges networking and network security into a single, cloud-delivered offering
How a SASE framework protects your remote workers and data
How SASE supports the needs of digital business transformation, and edge computing
Plus much more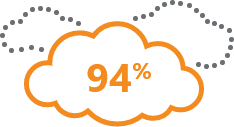 Cloud Adoption
94% of businesses use the cloud
2019 State of the Cloud Report, Flexera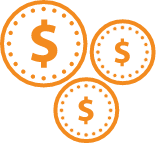 Reduced operational
cost & complexity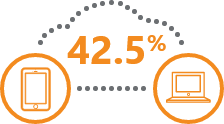 Mobility
42.5% of the global workforce will be mobile by 2022
Global Mobile Workforce Forecast Update 2016-2022. Strategy Analytics
Contact a SASE Expert today
If your business has multiple sites, a lean IT team and a complex IT infrastructure
requiring a security framework in one single, cloud-delivered service model -SASE Protect is the answer.
"SASE is the perfect evolution of networking and Security coming together to provide a unified and performant experience while comprehensively securing users and applications no matter how or where they are accessed" Jon Evans quoted.
SASE perfectly aligns to our skills sets and expertise –with our 15 + years heritage founded on designing and managing large complex networks and the last 3 years focused on security – SASE merges these areas to deliver real value for our customers and prospects. If your business needs a security solution for networking capabilities regardless of when and where you connect – Call Us Today!
The 10 Tenets Of An Effective SASE Solution First
With increasing numbers of mobile users, office locations, data, and services located outside of traditional network security appliances, organisations are struggling to keep pace and ensure the security, privacy, and integrity of their networks and, more importantly, their customers.
Download this ebook to understand how SASE addresses these challenges providing network and network security services from a common cloud-delivered architecture and its importance to your business today.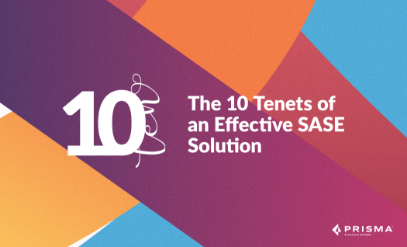 Working with a trusted
Security Partner
Over 16yrs security &
network design & implementation
Technical expertise
managing complex security frameworks
Proven capability & success delivering complex security solutions
Award-winning Managed
Service Provider
Cyber security specialists
Leading end to end security solutions provider at competitive prices
Provide ongoing security
maintenance and management
Visibility – in-depth Security,
application performance reporting
24×7 proactive service
and support
What Our Customers Have To Say
We were confident Enablis could get the job done and deliver what we need because they listened to and understood our requirements. We needed a network that could support the business going forward and continue to meet the changing needs of our customers.
Keiron Humbler
Group Executive Business Operations

One of the reasons that Enablis was such a strong candidate is that they offered a solution that aggregated a range of carriers. They dedicated the time to reviewing each of our 15 branch offices and as a result we have a network tailored specifically to our business.

This project was the biggest type of change from an IT and Telephony infrastructure perspective that the business has ever undertaken. What we've done today is something that we won't have to do again. It's a sustainable infrastructure.
Vineet Belani
Invocare Head of IT

We know 66% of our voice spend was going to online rentals and redundant services. Enablis' UC voice service removed these costs and we expect to save in excess of 50% that we can deploy to other business value areas.

Moving to a managed service with Enablis means I can trust them to keep my IT communications up to date and secure while my team focus driving efficiency across our sites, out in the field and on the factory floor.
Glenn Casarotto
IT Manager

Enablis Security Vendor Partners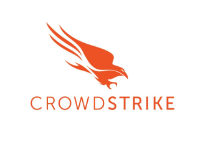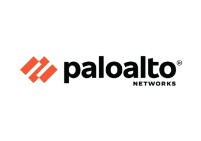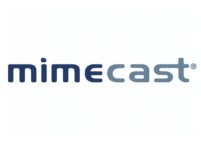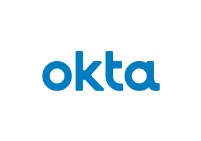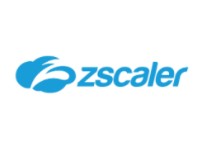 Fill in the form to discuss a SASE solution for your business