How secure is your data?
Protect your applications, data, devices and users anywhere with a Zero Trust framework.
As remote working has bought extra pressure with new security scenarios at play – It's now vital to protect your network, have multi-factor authentication to secure internet access, infrastructure, and cloud-based applications to ensure your business is not exposed.
Zero Trust is imperative for all businesses today – The Zero Trust framework is a strategic initiative that prevents data breaches by eliminating the concept of trust from an organisation's network architecture.
The principle of the ZTNA 1.0 is to "never trust, always verify." A Zero Trust Framework protects modern digital environments by leveraging network segmentation, preventing lateral movement, providing Layer 7 threat prevention, and simplifying granular user-access control.
ZTNA 2.0 combines fine-grained, least- privileged access with continuous trust verification and deep, ongoing security inspection to protect all users, devices, apps, and data everywhere – all from a simple unified product.
Superior security that stops zero-day threats in zero time
Single-pane-of-glass visibility and management, consistent policy, and shared data for all users and all apps
Cloud-native architecture provides uncompromised performance backed by leading SLAs
Australia's private and public sector continues to be targeted by more sophisticated cyber-attacks, so businesses need to be vigilant in protecting their networks using a Zero Trust framework to secure remote workers, data and their assets from modern threats.

81% of data breaches involve weak or stolen credentials.

50% of attacks are Malware-free, meaning legacy anti-virus can't stop it.

70% web traffic is encrypted (SSL), which gives zero-days and botnets a great hiding place.
Perimeters no longer exist – users are now working remotely
Business information no longer resides exclusively within the known perimeter of your organisation. Data and systems have moved to the cloud, which has fractured the old security border and increased the risk of compromise and attack.
I'm not confident my remote teams, data and networks are secure
My security framework is out of date against the latest threats and attacks
Our business needs secure data access for users in the office and offsite (remotely/ anywhere/ everywhere) we don't have this access right now
We don't have visibility, reporting and monitoring & Alerting 24×7
Zero Trust Security Framework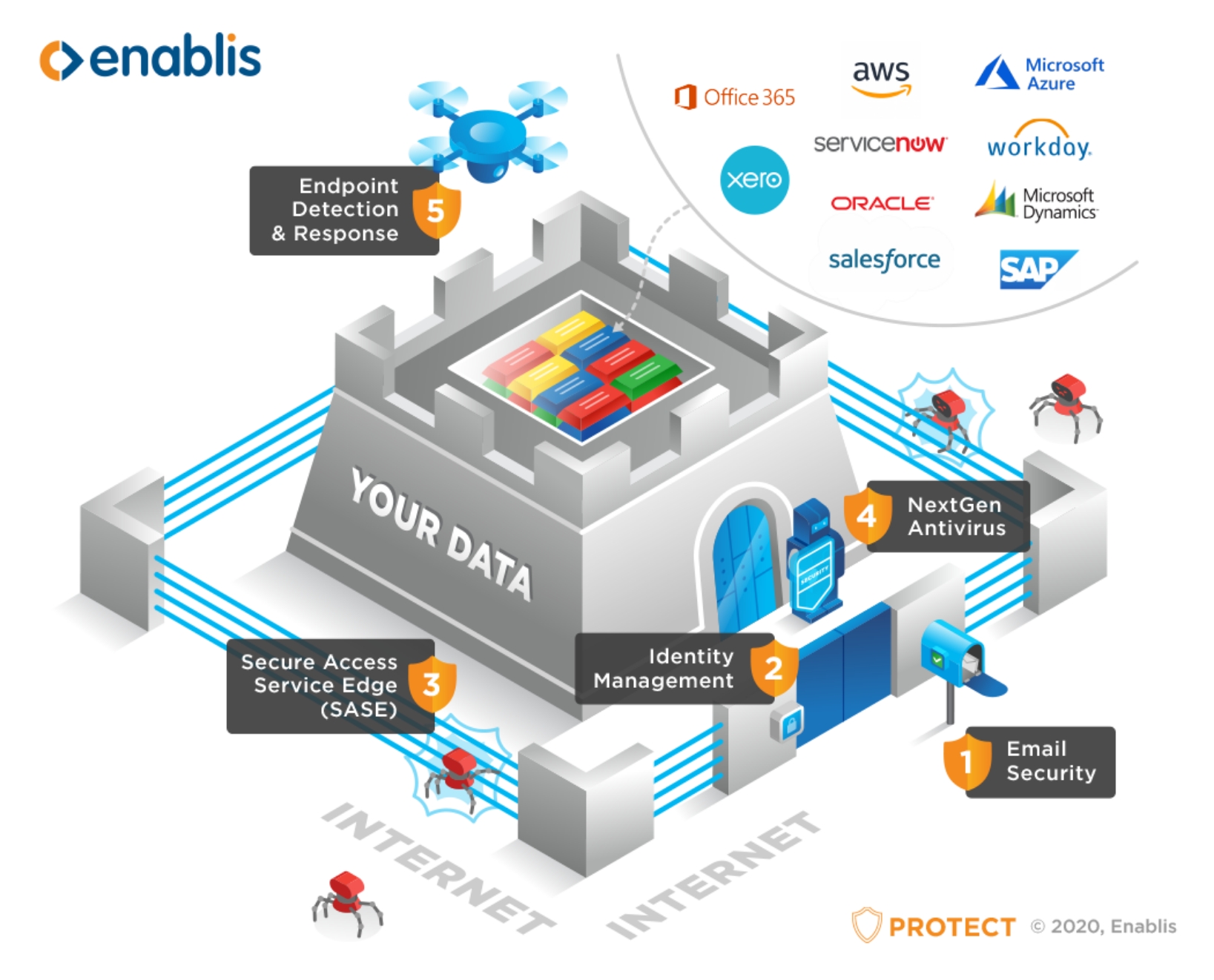 Email Security
Protect your number one app from impersonation, malware, phishing attacks and scams.

Identity Management
Single sign-on and multi-factor authentication are the foundation for cloud/SaaS adoption.

Secure access Service Edge (SASE)
SASE provides a full suite of security features as a service to protect remote workers from cyber-attacks and threats.

NextGen Antivirus (NG AV)
Protect your devices against evolving threats – including zero-day malware, and even malware-free attacks (NG AV works when you are offline)

End point Detection & Response
Protect against "silent failure" – identifying breaches that have been in your environment for days, weeks or even months – by deploying real-time monitoring capabilities with immediate visibility.
Speak to an Enablis Security Expert
The Enablis team of security experts welcome the opportunity to have an obligation-free conversation about how they can help boost your security architecture. Please fill out the form below, and we'll be in touch.